I've been away from my computer for a couple of days, but now that the negative effects of Internet withdrawal are fading away I am full of opinions waiting to be heard.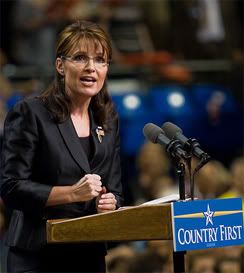 As you certainly know by now Sarah Palin has is stepping down as Governor of Alaska. Let me be crustal clear about my opinion on this: I am 100% supportive of her decision and think we will look back at this and see that it was a smart move.
I watched Fox News Sunday morning and heard several conservatives citing various reasons that she made a mistake. I don't buy any of their arguments. Our world is full of self-proclaimed experts, as well as those anointed by whomever to be considered experts as they spew verbal diarrhea while on camera. To a large extent I think the media has become full of itself and can no longer see reality.
Allow me to address the "abandoning her state" argument. She is doing no such thing. Her replacement, also elected, will take over for her. Any person can leave their job for any reason. And, I would like to remind you how much the Left mocked the fact that Palin was the governor of the measly state of Alaska. They tried to discredit her by somehow claiming that it was a meaningless place, certainly not able to justify political leadership experience worthy of a VP candidate. Now, that she has decided to leave her position, they suddenly want to reverse this mindset and claim that her state needs her, that it is an important job and she is shirking her elected responsibilities. Grow the hell up you hypocritical, hate-filled whiny bastards.
I ask those that think she is leaving her job prematurely this:
In 1996 Obama wis his first election and becomes an Illinois state senator.
Obama completed his first two-year term as a Illinois senator. In 1999, during his second term, he decided to run for Congress. He lost failed at that effort in 2000.
In 2003 he made the mid-term decision to run for the US Senate.
After becoming a Senator in and beginning his term in 2005 he decided a year into the job that he would run for President. He officially began running in January 2007.
I've always hated listening to politicians after they decide to run for higher office. Obama is the poster child for how to ignore your responsibilities while seeking higher office. It is all he has ever done. If you thing high school "senior-itis" is tough to deal with, imagine what it is like as an elected official. If you are focused on the next election, your current job responsibilities go straight out the door. Understanding this concept, do you think it was fair to the citizens of Arizona that John McCain spent virtually all of his time running for president instead of serving his state? Did Barack Obama neglect or abandon his duties in Illinois by spending two years running for president?
In my opinion, if you decide to run for higher office, the best possible thing you can do for your constituents is step down from your current position. Let someone else do the job that can focus on that job. How does this NOT make sense?
I think that Sarah Palin is preparing for a very powerful run for president in 2012. Bu stepping down as governor she can organize, fund raise and speak freely, without worrying about conflicts of interest. She has already hired legal councel to protect her from the certain slander/libel she will face. I see her as a pissed off animal about to strike fear into any that dare oppose her. After all, the press and the psychotic liberal braindead are happy to hide behind their blogs and iPhones, lobbing hate speech and blatant lies in her direction. But now that she will be a normal American citizen like you and me, she sheds the target of being a public offician and can fight with both hands.
The left is using strong language, negative language, to describe Palin's decision. This is because with her religion and gun clinging she scares the hell out of them. They are all borrowing from Barry Alinsky Obama's playbook and are focusing like a laser on Palin. Alinsky wrote "Ridicule is man's most potent weapon. There is no defense." It's irrational. It's infuriating. It also works as a key pressure point to force the enemy into concessions. Alinsky also said "Pick the target, freeze it, personalize it, and polarize it." Cut off the support network and isolate the target from sympathy. Go after people and not institutions; people hurt faster than institutions. (source) Do the two bold tactics above sound familiar? (If I were allowed a single question for Barack Obama it would be "have you read Alinsky's "Rules for Radicals" and if so, what was its effect on your political career?)
Look at it this way. If you were going to take on Team Obama, the most successful campaign team in election history, wouldn't you want to start as early as possible and do everything you can to give yourself whatever advantages you can find? In order to counter the most powerful and unethical (dare I say illegal) fund raising machine we have ever seen Palin needs to start fund raising now and has to find powerful and, more importantly, rich allies. To counter the ongoing wave of media backlash she needs to remove the shackles of public office. To address the oh so many lies, rumors and stories thrown at her she needs to have time to repeat her factual messages over and over and over and over again. Obama has shown America that if you repeat a lie often enough, the people buy it. If you perform "action A" while at the same time blatantly lie to the American people and tell them that you instead are doing "action B," they will buy it.
I think Sarah Palin will be successful because she has something Barack Obama does not have: Morals. Obama has been nothing but a higher-office seeking, "present" voting, race-baiting, self-serving opportunist that has never had to be responsible for his actions. To be fair, by all appeances he seems to be a great father and husband. But this does not qualify him as leader of the free world.
For the next week or so we will hear all sorts of psychobabble about her resignation. Be sure to consider the source and be warry of those that focus on the ridicule aspect without any substance to back up their statements. Sarah Palin is going to be a force to be reckoned with, I suggest that you buy as much popcorn as you can because this is going to be a great show to watch. If she surrounds herself with the right positive influences and ethical, dependable people, Sarah Palin will be our next president.
UPDATE: I found the following comment on HotAir and feel that it sums things up quite nicely.
People are choosing sides. — faraway on July 5, 2009

This is getting to the heart of it I think. The RINO wing of the party has known the war with its principled base was coming for some time, but I think they figured they had a tremendous time advantage over the base, since 'foes' like Palin were 'locked in' to their existing commitments until at least 2010 if not 2012, and thus couldn't bring the fight directly to them. With their time advantage, they probably figured they could make their case relatively unobstructed, cut small side deals with the Democrats from time to time that continued to undermine the position of the base (such as immigration perhaps?), continue to open small pinhole leaks in the fabric of their constituency, slowly demoralize the base, and position themselves to blackmail the base as the "only alternative" come 2012 as they always do, on the grounds that conducting open political warfare so close to the 2012 election would mean certain defeat for Republicans.

Now all that has changed. And they know it. And they're pissed about it.

Now, they probably think all this is terrible news. After all, aren't they selflessly trying to 'save' the Party by manipulating those red-state rubes in the base? But to those of us who knew the fight was coming, who knew the fight had to be waged no matter what, who implicitly understand a fight like this cannot (and ultimately would not) be swept under the rug, this is important news indeed. Because it means that *at least* the bloodbath will be taking place NOW, with lots more time to spare before next election, instead of smack-dab during the election season.

Until Sarah Palin's announcement, there were all the excuses in the world for postponing the day of reckoning. Now, there are few to none. Sorry RINOs.

If this analysis is true, then (at least this part of) Palin's decision is selfless as it means she understood she had to bring the fight now and not in another year and a half, and thus is taking a risk in order to do the right thing for the Republican base.

RD on July 5, 2009 at 2:02 PM